12 April 2017
A diversion is in place at Lomaloma on Transinsular Road in Vanua Levu as cracks have started to re-appear on the Lomaloma stretch.
Fiji Roads Authority(FRA) Chief Executive Officer John Hutchinson confirms that the FRA North Team have been monitoring the site at Lomaloma and recent movement visible on the road surface has prompted the team to recommend an immediate closure with traffic diverted onto the side carriageway.
Mr Hutchinson says that the Lomaloma slip reinstatement work was carried out in 2014 and 2015 and that it was unfortunate that the road surface has dropped and deformed to a large extent in the last few weeks. He adds a contributing factor is the heavy rainfall experienced in the area in the past weeks.
"FRA has engaged experts to carry out further geotechnical drilling work to try and establish the cause of the Lomaloma slip and we have now progressed into design phase."
"The safety of travellers is of concern to us and we urge that motorists use the diversion route adjacent to the road."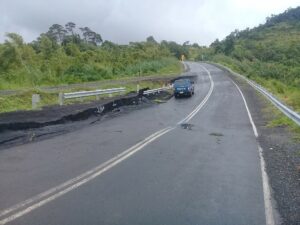 Read Full Report Here: TRAFFIC DIVERSION ON LOMALOMA STRETCH, VANUA LEVU