Fiji Roads Authority Chief Executive Officer John Hutchinson says that FRA is progressing with work on the Kasavu Slip to re-open Kings Road to motorists by mid May 2017.
Mr Hutchinson says that FRA has appointed Fulton Hogan Hiways (FHH) to go ahead with assembling and installing the modular steel bridge at Kasavu.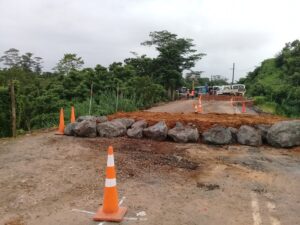 "Preparation work is already underway with the contractor moving in to establish onsite. The cost to install the Bailey bridge solution is $398,500(VEP). The long term solution will require an examination of the future road on its current alignment."
In an earlier press statement Mr Hutchinson says that this set up will permit buses and heavy vehicles operating at legal loads to use the Kings Rd. This bridge solution will be a single lane for buses, cars and trucks and it will be controlled by solar powered traffic lights.
Mr Hutchinson also highlighted concerns about the unruly behavior of motorists and some citizens at the slip site.
"The FRA is aware of allegations that some members of the public, possibly local residents are charging motorists a fee for facilitating an illegal crossing of the Kasavu slip site. The site is not monitored on a 24/7 basis and we are reliant upon the public doing the right thing. Unfortunately there are a number among us who will happily flout the law and put themselves and others in danger."
"The Fiji Roads Authority is hereby warning offenders to cease this activity immediately as anyone caught will be handed over to the Police."
Bailey Bridge Training
Last week, a five day training session on the safe handling on bailey bridges and its assembly was held at the Fulton Hogan Hiways Rew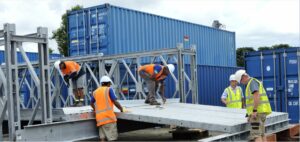 a depot where the FRA stock of bailey bridges is currently stacked.
Steve Morgan from Mabey Bridge Limited in the United Kingdom travelled to Fiji to host the training session that was attended by engineers from FRA, FHH, Republic of Military Forces and China Railway First Group.
Mr Hutchinson says that the training provided by Mabey Bridge Limited is a hands on approach to get our people and the industry skilled on assembling bailey bridges.
Mr Hutchinson also adds that Bailey bridges offer a low cost, effective and robust bridging solution, that if we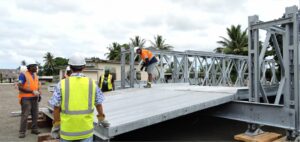 ll maintained will last for many years.
"The Vatuwaqa Bridge is a good example of a Bailey bridge that has been in place for years providing continued access to motorists and the same set up will exist at Kasavu whilst we work on the long term solution."
The Fiji Roads Authority is advising members of the public to take extra care when in the area and for motorists to continue using Bau Tikina road until Kings Road is re-opened in May.
Members of the public are requested to contact Fiji Roads Authority on 5720 to lodge their concerns or seek feedback on road related matters.