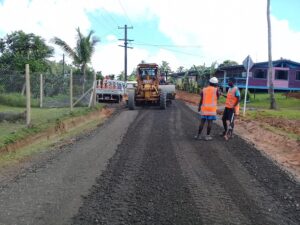 The current road works taking place at Raralevu village will see the sealing of approximately 800 meters of Mara Road through the village up to Namata District School.
The Fiji Roads Authority also stands to correct recent articles by commentators in the media around the road sealing work that is taking place at Raralevu Village in Nausori.
FRA Chief Executive Officer, John Hutchinson says that reports of shallow broken water pipes soon surfaced for Raralevu Village when traffic was diverted onto Bau Tikina Road in January this year that has delayed road works.
Mr Hutchinson says that FRA acknowledges that the road through the village was in a broken state and worse the water pipes were not buried deep enough and were too close to the surface. As a consequen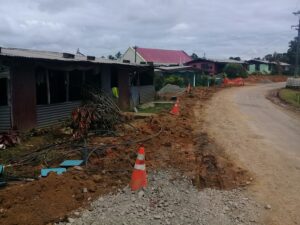 ce the Fiji Roads Authority and Water Authority of Fiji embarked on a joint project to first lay the pipes at the appropriate depth before the maintenance contractor can carry out road works.
Mr Hutchinson adds that the FRA is grateful to the Raralevu villagers and the surrounding communities for accommodating the sudden shift of traffic from Kings Road through their communities.
"I acknowledge that there were concerns about dust and burst pipes and we truly appreciate the community putting up with us as we worked to connect the travellers on Kings Road."
"Now that the pipes are laid the road contractors are sealing the road through the village. However the road from the junction of Vuci Road up to the village will remain unsealed for now."
In December 2016, TD04F with a heavy rain band affected the Fiji Group of Islands and ripped through the road walls at Kasavu taking with it approximately half of the road width. This resulted in the Kings Road closure and buses disembarking passengers on both sides of the slip, while lighter vehicles used the Bau Tikina Bypass route through Raralevu Village.